Warmtepomp monteur
Startsalaris:€2200 - €2500
Begin met ontdekken of je warmtepomp monteur wilt worden. Binnen 4 weken kun je al een nieuwe baan hebben bij een bedrijf dat bij jou past.
Je houdt van innovatieve techniek en vernieuwende systemen.
Je vindt het fijn om, na een korte cursus, in de praktijk het vak te leren.
Je ziet er naar uit om in een team met collega's te werken.
Hoe helpen we jou aan een baan?
Leer iedere dag 30 minuten in onze app, eenvoudig op je telefoon. Waar je wilt en wanneer je wilt. Terwijl jij aan het leren bent, gaan wij alvast opzoek naar een leuk bedrijf bij jou in de buurt.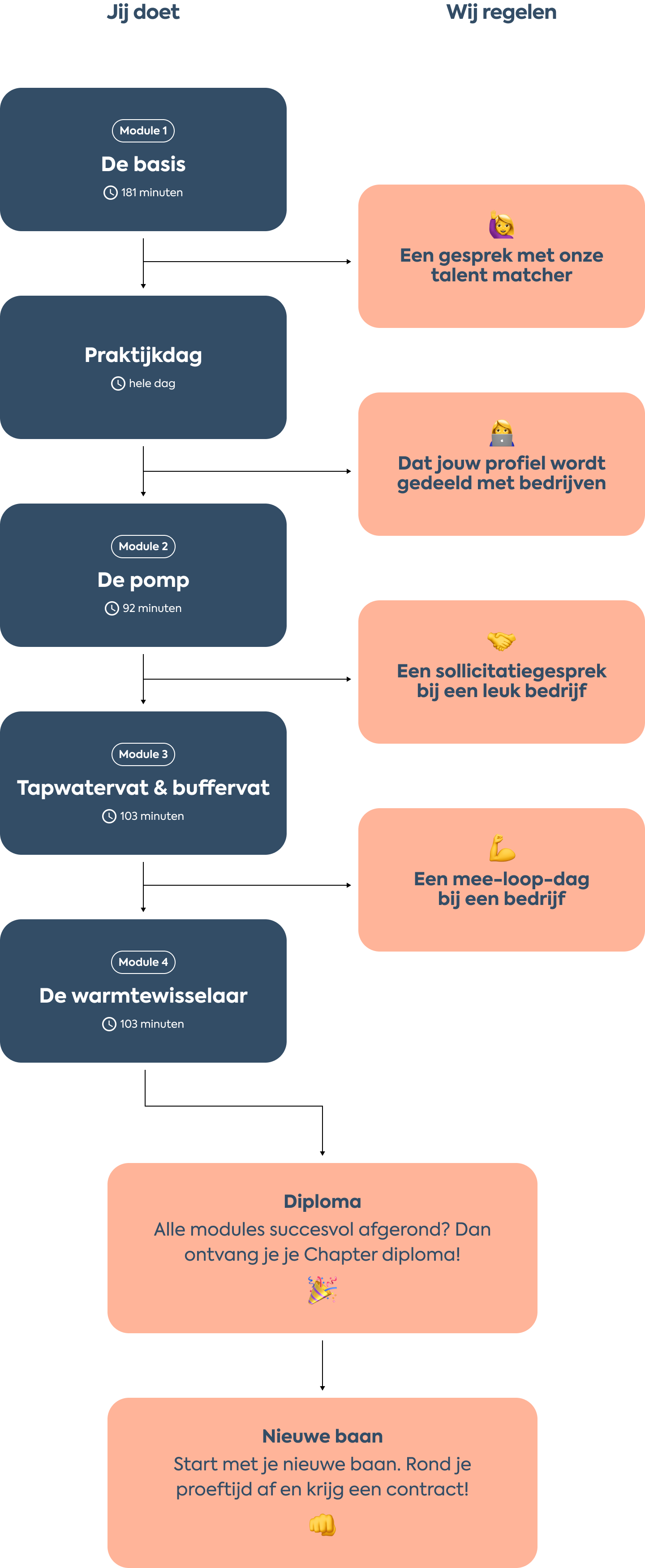 Ben jij een van de
2800

warmtepomp monteurs die wij zoeken?
Je installeert en onderhoudt warmtepompen en vervangt CV ketels
Van woningen tot kantoren, je bent veel onderweg en werkt op veel verschillende locaties.
Je onderhoudt contact met de klant tijdens het uitvoeren van de werkzaamheden
Check of dit ook bij jou past!
Ik wil een nieuwe baan met toekomst
Ik wil iets nieuws leren, maar niet terug naar school
Ik leer graag door iets te doen
Ik steek de handen graag uit de mouwen
Ik kijk liever korte video's dan naar lange teksten
Ik wil een betere toekomst voor onze planeet
Chapter heeft mijn leven compleet veranderd.
"Het programma van Chapter heeft mijn leven compleet veranderd. Ik ben zelfverzekerder en ik heb elke dag weer zin om naar mijn werk te gaan."
(voorheen werkzaam als metselaar en entertainer.)
Amrish helpt je de cursus door
Ontvang meer informatie
Of stel je vraag rechtstreeks aan Amrish.
Hij helpt je graag!